Discussion Starter
·
#1
·
On wednesday I finally got notification that my block from texas speed was shipped out. I called ups freight to double check tracking info. After talking with them I found out that they may or may not have been able to deliver it friday afternoon since I am out in a more rural aread. They told me could be 1-3 buisenss days longer WTF?? Um no that was not going to happen. I called and told the to hold it at the Shreveport Facility and I would go pick it up. Only a 80mile drive each way. I took friday off and a buddy of mine went with me. Here it is in the back of the truck.
Once we got home I opened up the box and to my dismay my cometic .060 gaskets were not in the crate. I call texas speed and ask what the heck is going on since i ordered them 3-4 weeks ago. Well some retard there decided to delay the order until my block was shipped. Are you kidding me???? It is a special order gasket that has to be built to order. So a huge monkey wrench was thrown into me building the motor and getting it installed this weekend. I frantically began making calls and most of the gm dealer parts had gone home for the day but I found one who said they had 1 ls3 in stock (really wanted ls9 but whatever) I got lucky the next morning and found the other dealer had only 1 as well.
We get to buildign the motor and quickly find out that the cam gear I had bought was the wrong one. More calls to parts stores and dealers and no one in the area has one. A dealer in Dallas says they have one so I have a friend who owns Whiteside Customs in Dallas send a tech to the dealer and pick it up for me. I plan to meet him at Kellers Burgers later that night. So we get as far as we can with the motor and drop it in the car. Basically only lacking Cam gear, putting on cover, radiator, fans, tb and then quick tune change. Should have the whole thing buttoned up in an hour when I get the gear. Block is fully built 418 and heads are Lingenfelter 72cc CNC LS3 Head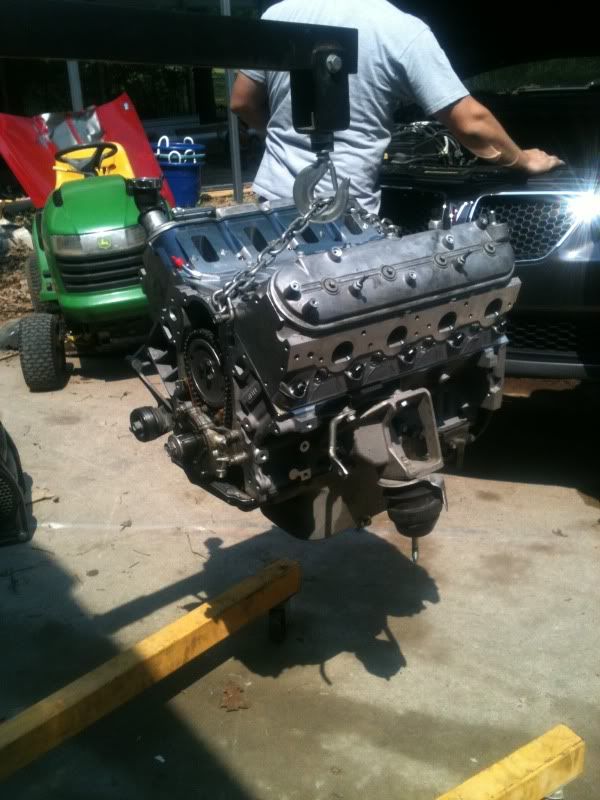 I drive to dallas with another friend and as we hit Dallas Mike White calls and tells me the Dealer screwed up and gave me a 1 bolt ls3 cam gear This is just not my day. So now I am stuck and have to wait until monday to order it and hopefully they can overnight it to me on tuesday. Why such a big rush you ask? I have to drive the car 7 hrs on Friday down to New Orleans to compete in the New Orleans Half Iron Man.