Join Date: Sep 2009
Posts: 5
Possible future G8 GT owner... :0P
---
Hey everybody Ive been lurking a little bit lately and decided to join today... Figured I would introduce myself my name is Crystal Im 22 from New York.
Ive been looking at an '08 G8 GT in white with black interior I love the car and hopefully if I can work out my payments a little lower Ill be driving her soon!

Right now I have '99 Acura 3.2TL and the car has been great to me but this is an awesome oppurtunity with the G8. Im honestly a bit nervous making the jump from honda to GM.

Anybody know of any problems with this car or anything I should look out for when I go to see this car? (Its in MA Im in NY so I wont really see it until its time for pick up and for signing the paperwork)
Join Date: Sep 2009
Posts: 16
I found some reliability information by doing Google searches on the Holden Commodore or Calais sedans. They are the top selling cars in Australia for like 13 years and win the continental road rallys quite often. G8 looks just like them and made in the same place. I'm no aware of any fatal flaws.. have heard some complaints of fuel pumps or O2 sensor issues, but nothing serious. Anyway..use that GM uncertainty to bargain for a lower price and buy the extended warranty with the savings if successful. That's what I did. BTW my mechanic likes the car .. and hes a solid Nissan/HOnda/Toyota buff.
Join Date: Sep 2009
Posts: 5
Its official!!! I pick her up this sunday!!
2008 White/black leather G8 GT with 18k for 25k even
I will definently update with pictures once I pick her up!!
Thanks ghostman for the reply lol and I did use that uncertainty and he convinced me by dropping the price about 1.5k
Congrats on the new ride! The G8 looks really good in White Hot. It wasn't my first choice, but it has grown on me. Enjoy it!
Join Date: Sep 2009
Posts: 5
haha I actually love it in white... but I think Ive always had it in my mind that I wanted my next car to be white hahah I cant wait to pick her up Im so anxious now!
Join Date: Sep 2009
Posts: 5
ITS OFFICIAL!!!
Heres just a teaser Im gonna take a bunch of pictures of her later today...
P.S. my boyfriends driving it in the pic lol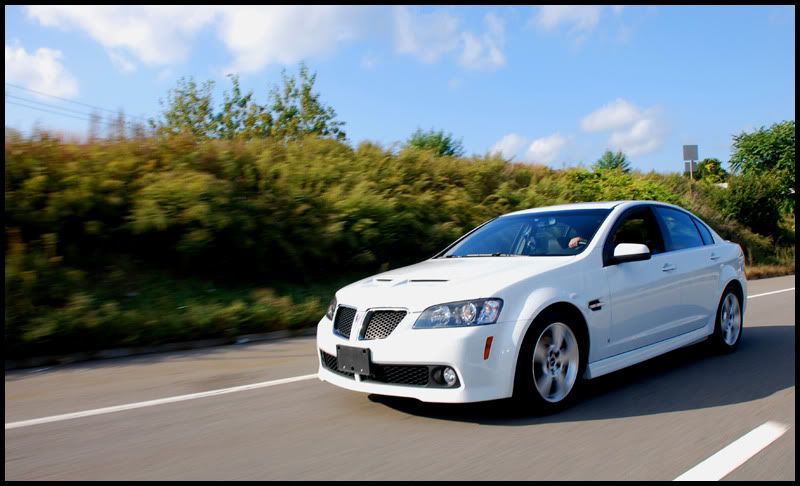 Join Date: Sep 2009
Posts: 5
new pictures!!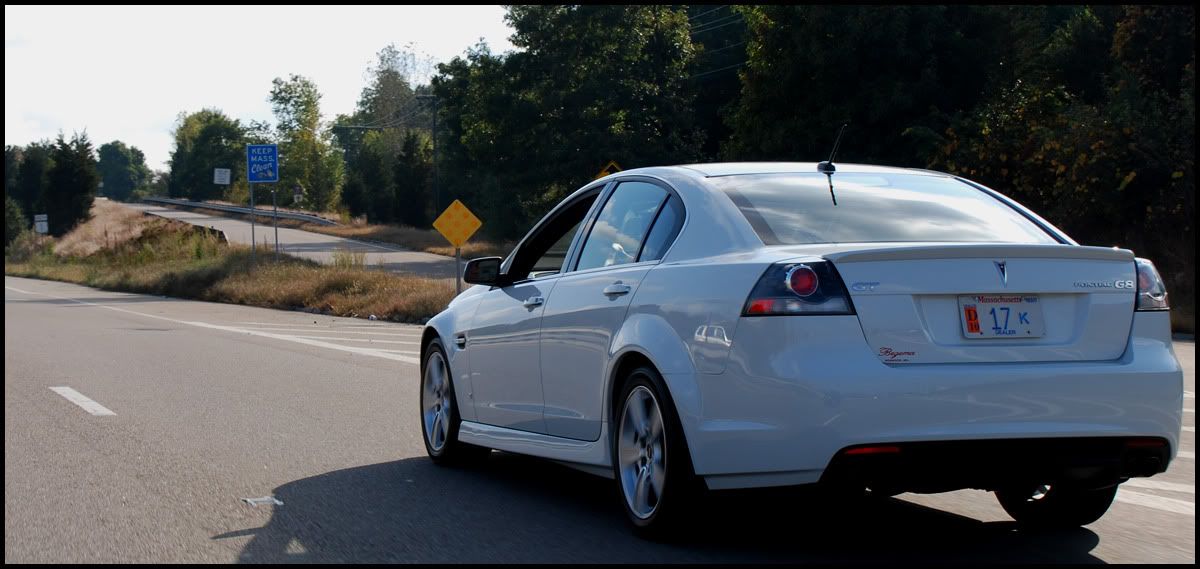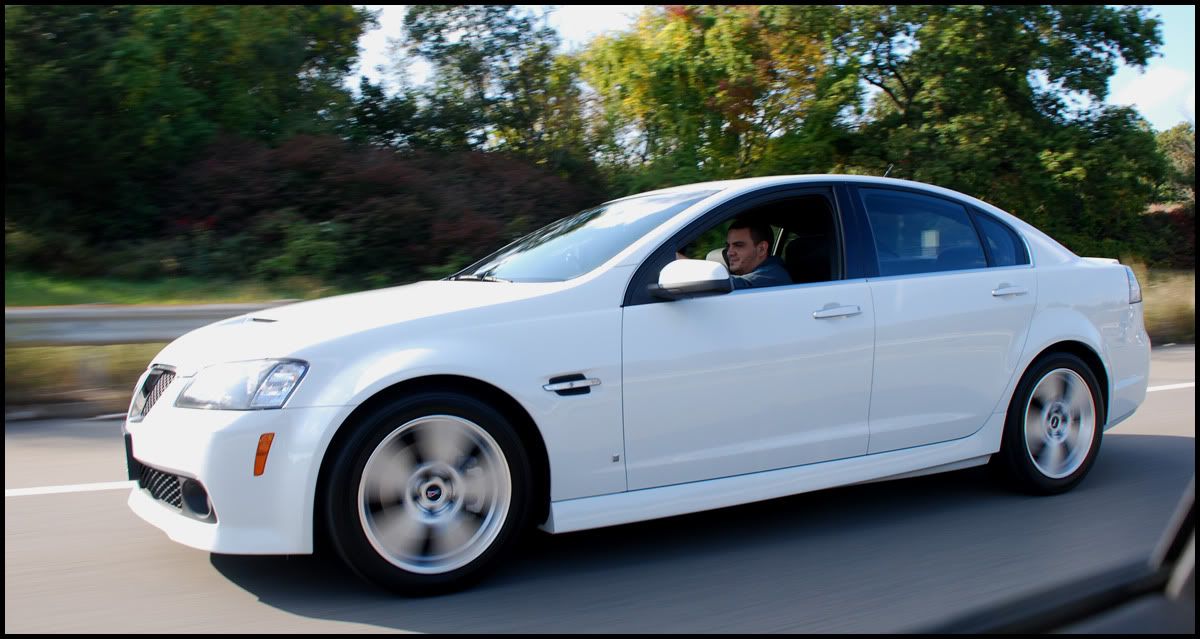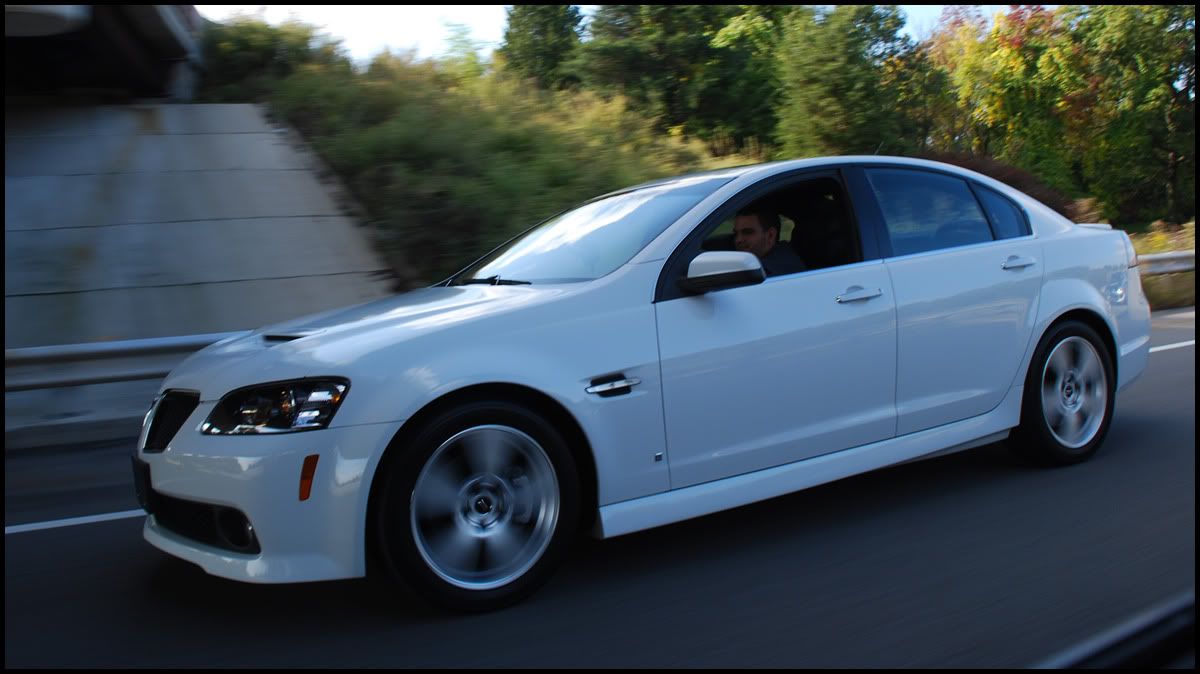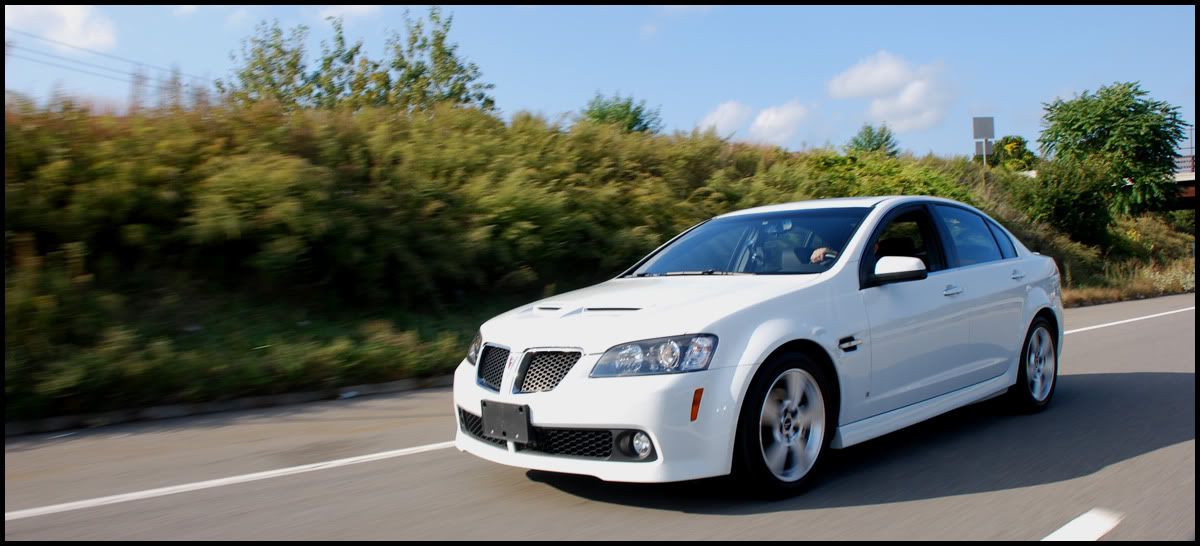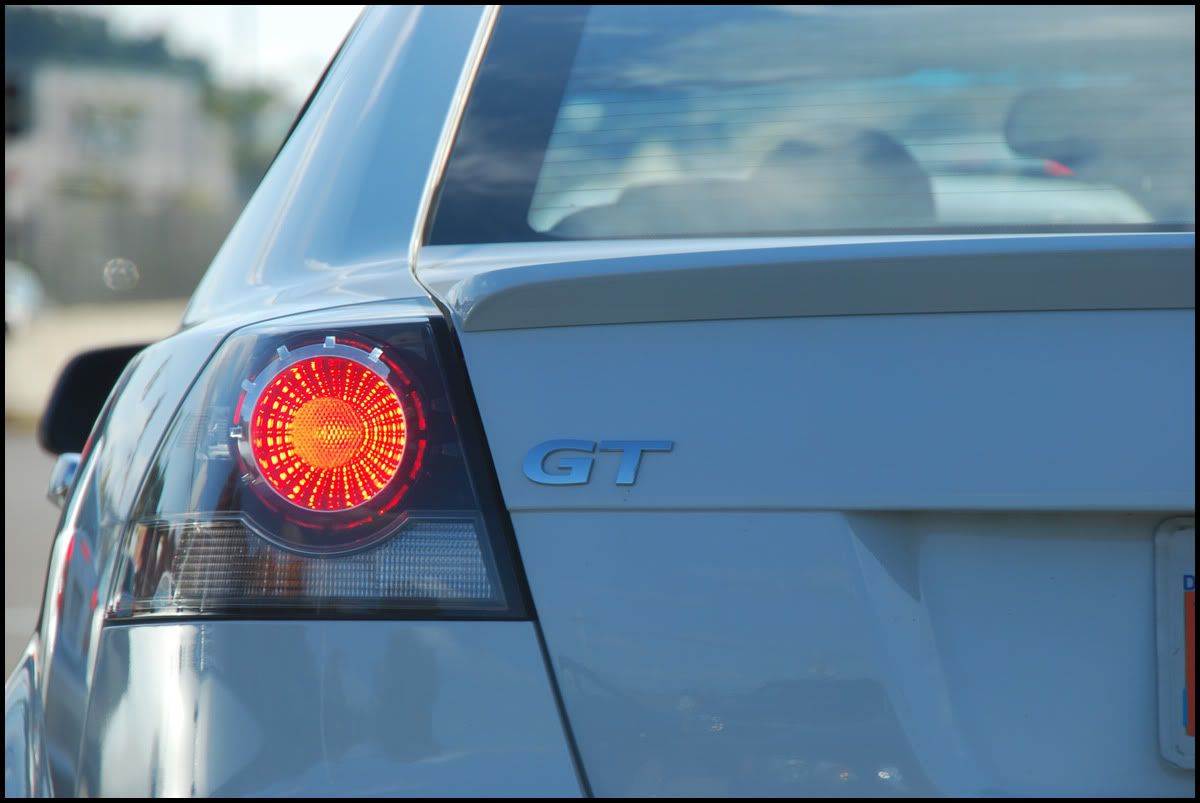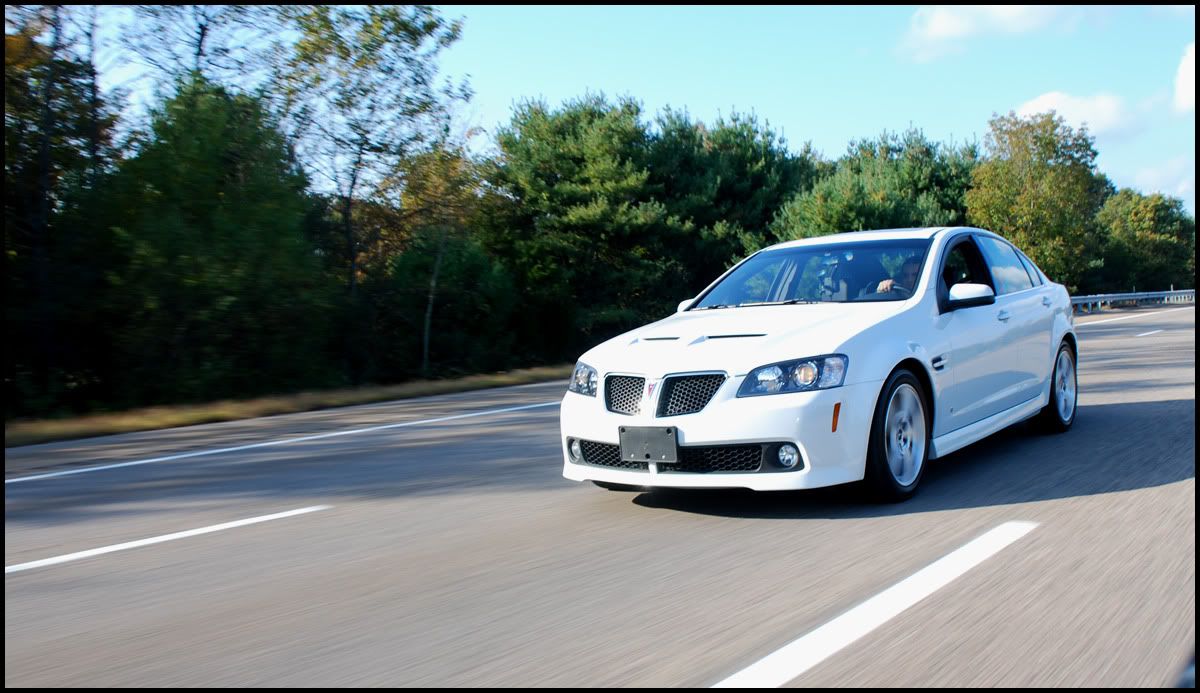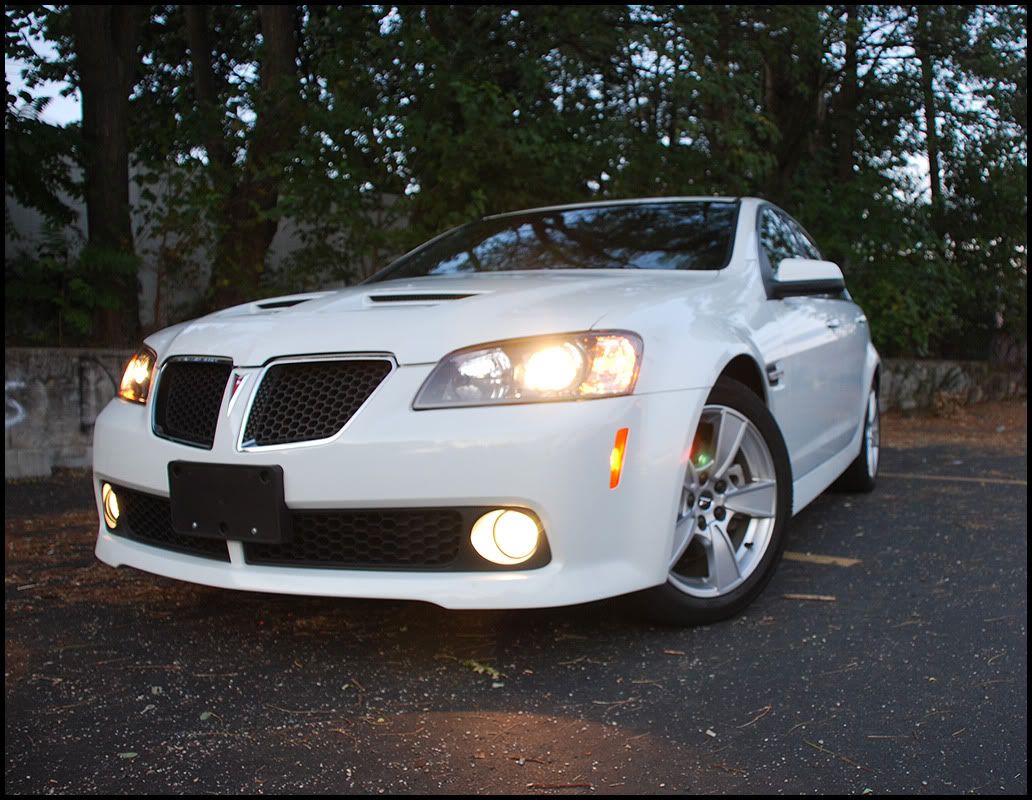 day 3 now and I think im officially in love lol
Join Date: Oct 2009
Posts: 2
Wow! She looks great! I bought my G8 in NJ and was THIS close to purchasing a White one with two-tone leather...but the Liquid Red grabbed me instead. Congrats on a great deal and enjoy! (Now I know there are at least two G8's in NY, LOL!)
Join Date: Sep 2009
Posts: 16
Congratulations on the "new" delivery!
---
Good job on the negotiations and congratulations on the white car --sets off the darkened headlights and tail-lights. Mine is Maverick Silver so is close to white in bright sun. There's other G8 forums as well if you want to get more techy about the car. There's G8GT.com and the GRRRR8 one and I think another one as well. I found some great technical analysis articles about the chassis and drive train on the GM tech. sites.

I'm getting decent MPG out of mine, but only have 770 miles on it thus far. Drive in mostly flat Texas conditions. Looking forward to a "high speed" road trip with hills and curves!

Be sure the read the section of the owners manual about preparing your car for extended operations north of 100 MPH!

Ghostman, Beaumont TX.
You won't be dissapointed! The only thing you may have to keep an eye on is the upper mount on the front struts.... some have been known to wear through the damper and rattle a little.... mine is 3 years old and hasn't had any problems yet! although, i have only owned mine for 10 months. One other issue with some of the Commodores over here is a battery issue..... some of them have a "glitch" in the computer that causes the battery to run flat over the space of a couple of days.... and again, i haven't heard of anybody i know personally with one to have that very issue. You will love it!!
I can't stop smiling when i get into mine!! it's a shame that they aren't sending any more over there..... although, your police may soon be driving around in a variant of them.....
Official timing on 0-100kph (60mph) is 5.8 seconds..... i timed mine with video at 5.3 and that was before the cold air intake.