Join Date: Dec 2009
Posts: 1
Open the G8!
---
Well I finally pulled up my panties real good and got the wife to let me get a G8 GT. I found one at the dealer I had worked with in the past. White Hot and ready for me to mod (or not). I have lurked here in the past and knew my wife would not let me get away with too much, but the recent rebates, I could not pass it up. Here she is: Sno-pac (too weird?)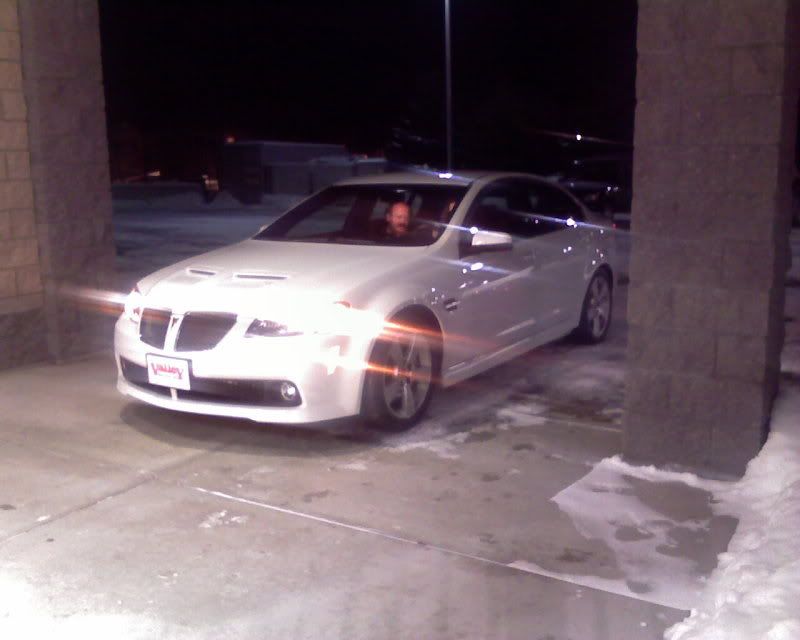 Sorry about the crappy pic, we just got it tonight and it was dark by the time we got to the dealership.
Junior Member
Join Date: Aug 2009
Posts: 26
Mods?? What mods?? Congrats!!
Join Date: Sep 2009
Posts: 16
Congratulations Yendor.. Nice to know there are still some G8s on the lot.. I got mine on Sept. 11th ("Patriot" - silver with black leather). Hope you do well on the slippery roads and all.

Interestingly, Yahoo Cars listed the Pontiac G8 (GXP specifically) as one of the top 5 vehicles for 2009.. and that there shouldn't be any on the lots! Stay warm up there! Ghostman, TX.
New to the site I bought my G8 GT about a year ago. Still looking for mods can't really decide what I want to do. Right now I'm trying to find a set of 19" rims for a set of winter tires, can any one tell me where to go here in the states that sells the G8 GT rims.