New GXP Owner in east central Indiana
---
Hello everyone !
I've been looking around for quite sometime...and lurking on this and other G8 forums along with some CTS-V forums as well.
I've been weighing the pro's and con's of getting either a G8 GT, GXP or CTS-V....for awhile now.
My current ride was an 06 Impala SS.
I was determined to get a CTS V until I did a bit more research on them and figured out that I could basically build a G8 up to match or exceed the CTS-V's abilities....for ALOT less !
PLUS...as a bonus...I prefer the look of the G8's ....I think they just look better all around.
What made me decide on the GXP...in the end...was the fact that they made so few of them.
As a matter of fact...I've only seen 1 in my local area...for the past several years !!! That's what really made me want one (besides all the other great reasons to get one!)
My end goal is to have a reliable...daily drivable....500+ RWHP Sedan that will handle and stop as well as it goes !
I'd like to upgrade to an in-dash touchscreen nav...and I've seen a few threads out there so I know guys have done it...so that gives me some more mods to look forward too.
I plan on Headers...full exhaust or at least x pipe and cat back system.....MAGGIE....and possibly a few other mods to go along with a good tune.
I just bought my car last night.
It's a PBM G8-GXP ...Automatic.....with the sunroof and Black/Red leather. From some of the specs I've read....it looks like it may be one of 15 optioned that way??? I'm not 100% Sure there...but the last numbers of my VIN are : 302332
If anyone knows how to decipher this sorta thing...help me out.
It has 34k miles on it...and I bought from outside of Cincinnati OH at a nice dealership called "Columbia Chevrolet".
It currently has a tune on it (not sure what or by whom tho)...but it's obvious by how it shifts (VERY FIRM)
It has CTS V Wheels with 250's in the front...and 285's in the rear.....otherwise it appears to be stock.
ArOn
A few pics: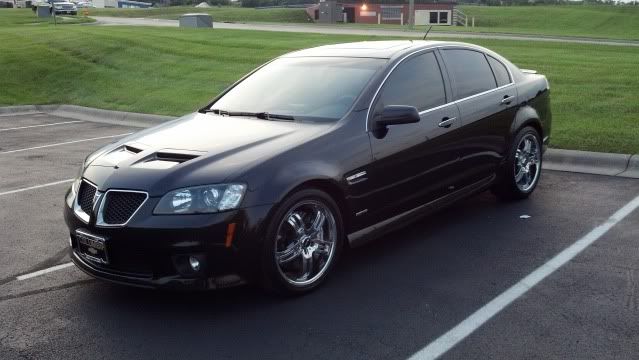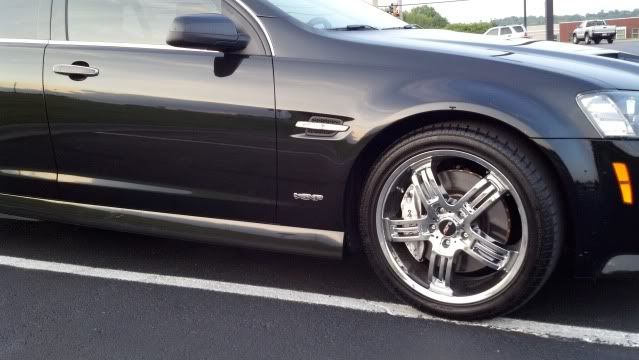 ---
Last edited by BiGDaWgZ; 05-15-2012 at

09:40 PM

.
Thanks for posting info you your GXP, and congrats on the purchase! Thanks for posting the last part of the VIN. This allows me to give you specifics on your car. It is #236 of the 1829 built, and was built on 11/10/2008. It is #9 of 81 GXPs built in that configuration, so your number was a bit off. I had tracked this car as it was previously owned by a G8 enthusiast on a different site. I hope this info is helpful!

I have tracked down the VINs of all the GXPs built and am compiling the info for an official G8 GXP Registry. I hope to launch the site later this year.
Thanks !

I have been contacted by the original owner of this car on another forum...he only owned it for a short time because he was really wanting a 6 spd manual car and when he found one, he traded for it.

I'd like to know who the owner was in OHIO...just so I could talk to them sometime and find out more recent info about it...but I haven't found them yet and I'm not sure if the most recent owner was a member of any forums or not.

1 of 81 is ok by me too....they're all pretty rare considering that the only way I've been able to see one in my area is when I've traveled to car lots that had them for sale (but even then they usually sold before I could get there to check them out !! LOL)

Thanks for all your work on this and the info !
---
Last edited by BiGDaWgZ; 05-20-2012 at

10:45 PM

.
Junior Member
Join Date: Jul 2012
Posts: 3
Welcome to site Hope to see some pics eventually and get some good input from you for some of our other members. I'm sure you'll benefit from being here just like so many others have, including me.
Member
Join Date: Jun 2012
Location: DFW
Posts: 34
Welcome! I love mine. It can outrun most V's and I can haul 3 car seats in the back, lol.